Agents • Managers • Coaches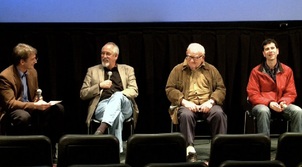 Braden Wright moderating a Q&A for 'Elephant Sighs' (2011)
WHY MESSAGING COACH?You want success for your clients.
Clients that handle media well have a better chance of becoming well known.
That translates into higher demand—a profitable situation for both of you.
With social networking, publicity doesn't start anymore once an actor's work is about to be released.
It starts the moment they create a public profile.
Once "it's out there," it's "there" for good.

Help to arm them with everything they need to build success, starting now.
Until your actor can afford a dedicated publicity firm,
consider
Messaging Coach
as an excellent,
cost-effective resource for
clients who are about to
:
• Do an Interview• Attend a Premiere
•
Shoot a new Film Role or Television Series
•
Prepare and augment their personal Press Kit and Talking Points
Actors hire coaches to help with their auditions. Guide them to hire a
media coach
so they maximize every opportunity rather than ruining hard-won gains—and I've witnessed and stopped even some A-List stars from doing just that.
In as little as 2 HOURS, I can help your client with one of the following
:
•
Understand the dynamics of the interview situation she or he is approaching
(Film sets, EPKs, Q&A sessions, print, radio, TV talk shows, press conferences)
•
Define project-specific responses to the 5 Basic Questions for every interview
•
Define talking points for the additional 4 Basic Premiere questions
• Know how to realistically and effectively work the premiere step-and-repeat
•
Manage sound bytes and photo ops for supporting actors that get media play
•
Gather and define an actor's personalized media press kit
They can do further prep and practice work on their own time and return as needed for:
-
interview practice and polish
-
continuing work on other activities mentioned above
-
project-specific preparation when headed into a new film or series
-
Bio or Photo Approvals when they don't have time to do it themselves
As the Messaging Coach, I work as a Media Coach and Communications Strategist. I am not in competition with PR firms that take on clients to seek placement of articles with the media. I work with clients who are seeking additional coaching help.
I have 24 years of experience in working with EVERY level of actor; 24 major features as a unit publicist, over 40 red carpet premieres, 10 years as a studio photo editor and extensive PR writing credits.
Feel free to call me with any questions:

310-849-8335
email me at
info@messagingcoach.com
Thanks
for your consideration on behalf of your clients.
I look forward to being a valued and trusted resource for your stars' Race To the Red Carpet™
Braden Wright,
Messaging Coach
---